Full Service Company
RADIX Construction, Inc. is a full service, commercial construction management, general contracting, and facilities service provider firm with architectural services, based in Nampa, Idaho. RADIX is knowledgeable and experienced in both traditional and alternative project delivery systems. The types of projects RADIX has experience in is traditional bid, construction management, design-build, and negotiated contracts for both private and public entities.
We are experienced in:
Commercial
Industrial
Education
Multi-Family Housing
Retail
Government
Health Care
Restaurant
Food Industries
Facilities Services Provider
The RADIX philosophy
At RADIX Construction, Inc., we pride ourselves on the mantra that "Honesty is the currency of trust." An atmosphere of trust and mutual confidence is essential for repeat business and building relationships, which is why we believe the RADIX design-build delivery process is best-suited to fulfill an owner's project expectations. The GC, as the Design-Builder, streamlines the design and construction coordination by allowing the GC to take charge of each aspect of the project, conception through completion, bearing responsibility for successful project delivery. Additionally, our clients take advantage of early conceptual pricing, allowing them to see accurate project pricing before spending a penny on design. In doing so, cost overruns are prevented, and our clients' dollars deliver more value. Our project teams are passionate and accountable construction professionals ready to dedicate exceptional workmanship and extraordinary service.
Success is Satisfied Clients
Our success is a direct result of repeat and satisfied clients, and our ability to maintain quality, budgets, and schedules for our clients. We have a knowledgeable and seasoned staff of construction management and supervisory personnel to meet the challenges of our clients' construction needs. Our employees have diversified backgrounds with hands-on working experience of current construction technology and project controls. RADIX employs the same management philosophy and commitment to quality and service, which for over 40 years has been the legacy of the principles of RADIX Construction, Inc.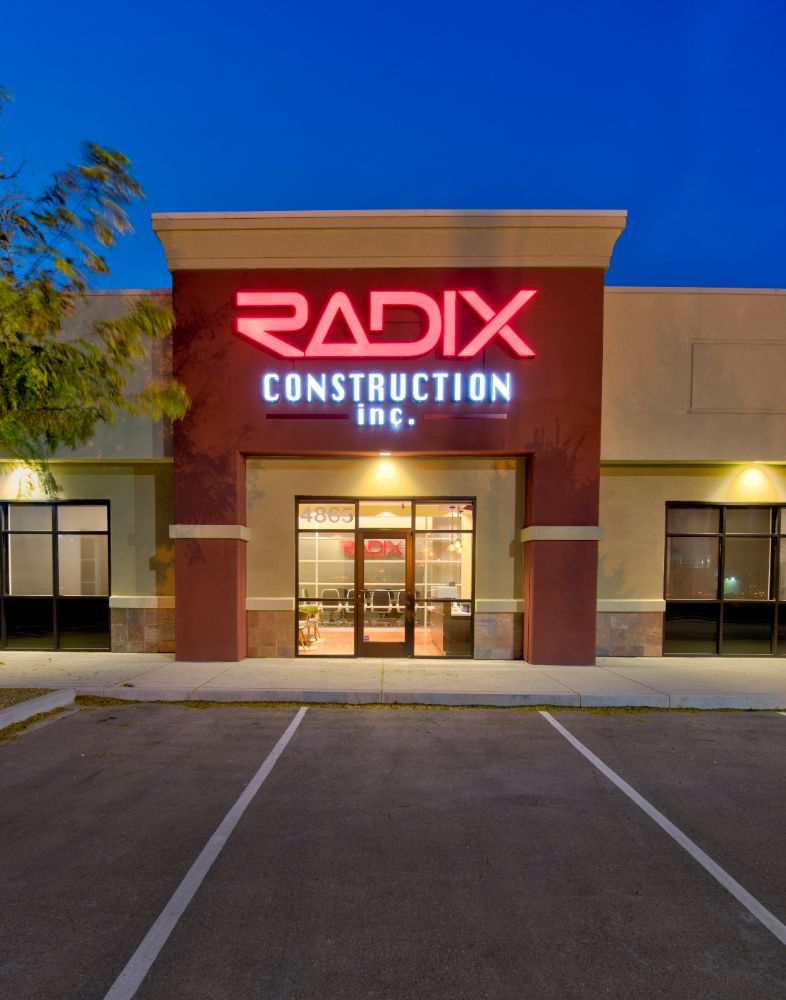 WHO IS RADIX CONSTRUCTION?
Full-Service Solutions
RADIX Construction, Inc. is a full-service commercial General Contractor who specializes in Design-Build and Design-Assist systems, as well as Pre-Construction and Facilities Maintenance services. Centrally-based in Nampa, Idaho, we are licensed to perform a variety of construction services across 28 states and two US Territories. We embrace an employee-centric culture that holds our staff with the same high regard as our clients. You will appreciate our small business and family-based feel. Our culture is one of accountability and passion for our work. Whether you choose a traditional or alternative project delivery system, you can count on our construction professionals to deliver quality and service. Since our incorporation in 2003, we have built a portfolio of more than 400 successful projects. We are your go-to source for commercial, educational, multi-family, retail, food service, healthcare, and government projects. Please take advantage of our early conceptual pricing and budgeting services and contact a RADIX Estimator today.