The foundation of our success is building relationships.
Allow us to build one with you
RADIX Construction, Inc. is a full service Commercial General Contractor headquartered in Nampa, Idaho; only 20 minutes from the state's capitol city of Boise. We provide Design-build, Design-assist, Construction Management, General Contracting, and Facility Maintenance services nationwide. RADIX is knowledgeable and experienced in both traditional and alternative project delivery systems in both private and public market sectors.
We are experienced in:
Design-Build
Commercial
Industrial
Education
Multi-Family Housing
Preconstruction Services
Retail
Government
Health Care
Restaurant


RADIX is a Design/Build Company
RADIX was founded as a Design/Build company with the desire to provide the market with a better service than could be found anywhere. To achieve this, RADIX has developed a true synergy between the Design and Construction functions of the company. These professionals have worked for decades in every aspect of project development. We can assist with entitlements, leases, contracts, design, construction, equipment, and start up. Our design and construction staff has experience in virtually every building type and occupancy, and from the beginning we bring the full depth of that knowledge to each and every project.

Design/Build Synergy Benefits You
It is this synergetic infusion that makes our products unique and valuable to our clients. This total commitment of resources assures that projects are completed on schedule and within budget; time and time again. RADIX provides complete architectural, planning, and interior design services nationwide, as well as Puerto Rico and Guam. Our projects include commercial, retail, restaurant, government, hospitality, religious, educational, and housing. Any survey of our client base will reinforce the special blend of imagination, experience, technical expertise, and consistent performance that is reflected in superior design solutions for an ever-broadening client base.

RADIX is Innovative
RADIX is proud of our ability to produce innovative design solutions that meet or exceed our client's goals and aspirations. We are constantly meeting and striving to improve our standards of comprehensive design-build and preconstruction services with the most functional, economical, and successful design solutions. Our clients compliment us with consistent repeat business due to our effective tools of innovation in order to enhance the end result.

A Collaborative Process
We understand that only by listening to our clients can we gain a clear understanding of their specific design needs, then we will respond with the best solutions. We keep our clients involved throughout the project in order to ensure the completed project meets the clients' expectations. RADIX's synergistic collaboration and the commitment of its professionals have earned a distinguished track record of successful projects and satisfied clients.
Ethics and simple honesty are the building blocks upon which RADIX is based. Having a set of honest standards is integral to the practice of conducting business.

RADIX Construction has proven themselves time and time again to be one of the front-runners when it comes to restaurant design and construction services

— Vince Yannet
Director of Construction
Rock Bottom Brewery

The architects and consultants on all of these projects have indicated that RADIX's ability to communicate effectively and timely was extremely impressive.

— Kay Barbre
Director of Construction
Sizzling Platter

RADIX has a great understanding of identifying and fulfilling customer needs before, during, and after a project.

— Donald Adamson
General Partner
Sunflower Investments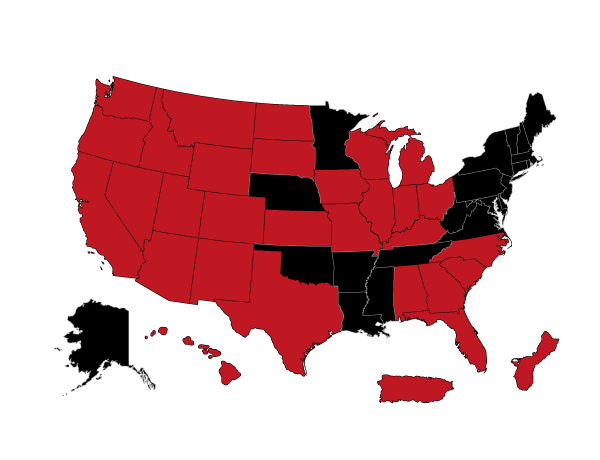 RADIX has credentials to provide commercial general contracting and facilities in:
Arizona
California
Colorado
Florida
Georgia
Hawaii
Idaho
Illinois
Iowa
Indiana
Kentucky
Missouri
Michigan
Montana
Nevada
New Mexico
North Carolina
North Dakota
Ohio
Oregon
South Carolina
South Dakota
Texas
Utah
Washington
Wisconsin
Wyoming
Guam
Puerto Rico
In addition, should a client request a project where we presently do not have credentials, we can generally secure them within several months.